For the past month, I have been busy at work creating a brand new website for Brownie leaders. Updating this blog earlier in the year had me thinking about the new Brownie program and how different it was from when I was leading my girls at this level of scouting.  Many leaders such as myself still loved the plethora of Try It options that were available with the old program. Try It badges were from this older version of Brownie Scouts was readily available at Council stores a few years ago, so it was easier for us to buy these badges in bulk.
(Some of these Try It are still available. Check out the Girl Scouts of Indiana Council  Store if you are still in need of them.)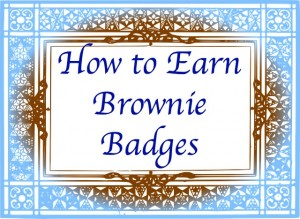 I have spent a great deal of time reading about and researching every single badge-Legacy and Journey-in the current Brownie program. As of today, I still have four more pages to write, but I could not contain my excitement about sharing it with you.
Each badge has it's own page with a lesson plan that you can easily do in one meeting. There is no need for all of the experts that are a requirement and there is no need for girls to do work at home (we all know that this part of badge work rarely gets done).
Lists of resources are given with links to sites that can give you more information and choices.
You can find How to Earn Brownie Badges right here!