*This post contains affiliate links.
My co-leader and I met today to create our "bridge" for our Brownie to Junior Girl Scout bridging ceremony in May.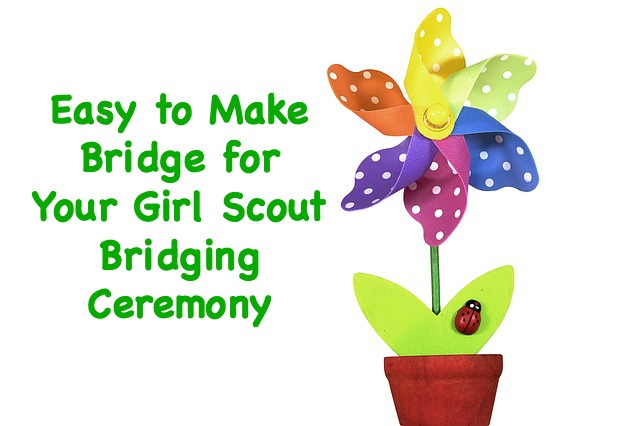 Photo from Pixabay
We talked about what we were going to do as we sponge painted flower pots, which will act as our bridge. I got the idea for this from Mom's Mini Van and made it my own.  When it is all up on our big day in May, I will post a picture.
I wanted to make something that the girls could have as a keepsake of this special Girl Scout milestone. I purchased ten terra cotta pots at Michael's, which cost less than one dollar each with the coupon.  We wrote out each girl's name in a thick black Sharpie and used sponge painted them with glittery green acrylic paint.
We hot glued a styrofoam ball to the bottom of each pot, which dried rather quickly after we painted them.  Then we hot glued the top of the dowel and inserted it in the center of the ball so it would stay in one place.
We added funky Easter grass bought on clearance.
At the top of each dowel, we hot glued a foam letter (each girl's first name initial) that I found at Michael's.
We will be devoting the last two meetings to our bridging ceremony and for finishing our scrapbooks for the year, as well as one final Brownie Try It.
I wrote an article about the specifics of our Brownie to Junior Bridging Ceremony on Info Barrel.  You can read about it here.
If you are bridging from Daisies to Brownies, read how my troop did it here.
If you want to create a bridge of your own, Michael's had many different felt baskets at 60% off.  I only found six green ones, so I could not buy them.  But there were tons of Daisy blue!  They were in the summer fun section of the store.  The store was stocked with so many wonderful things!
Let me know all about your bridges and ceremonies!  I would love to share them with other leaders who may need idea.
*All photos by Hannah Gold