Tradition is one of the core values of Girl Scouts. One way that we honor Juliette Gordon Low, the founder of the Girl Scouts, is with service and ceremony on her birthday, which is October 31st.
Younger Daisy Scouts can do simple projects to commemorate Juliette and learn about her. Brownies and Juniors, who should already be familiar with her history, can have a simply ceremony as part of the meeting and to give honor to someone who helped make the world a better place.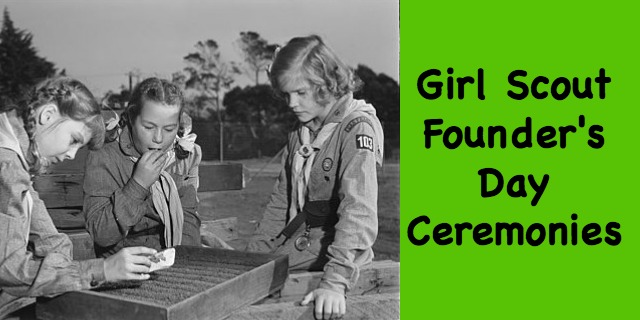 Photo by Ann Rosener [Public domain], via Wikimedia Commons and altered by the author in Picmonkey
Because scouting is steeped in tradition, you do not have to drive yourself crazy trying to create you own Girl Scout Founder's Day ceremony. It has already been done for you! Unlike bridging ceremonies, rehearsal is not needed, as this is for the girls and not the parents. It does not have to be perfect, it just has to be!
Here are some Girl Scout Founder's Day ceremonies for you to use.
Scouting Web Founder's Day Ceremony
Girl Scout SU 440 (Go to page 8)
After your ceremony, it would be a great idea to do some kind of service project. Depending on the amount of time you have and the girls ability levels and interests, you can do something simple or more complex. I have a Pinterest board full of service ideas.  You can find it here.
You can also see my updated ideas for Founder's Day activities on this blog post.