Time certainly flies. Once upon a time you were a brand new leader with a young group of Daisy or Brownie Girl Scouts, and now in front of you are a group of young adults who are Ambassador Scouts. From pigtails to prom, these girls have stuck with scouting. Your time together is quickly coming to an end. What should you give your girls as a parting gift that is meaningful to both leader and scout?
You have several options.
Photo created in Pixabay by Hannah Gold
Lifetime Memberships
A gift that is the most expensive, but is the most meaningful, is to give your graduating Ambassadors a Lifetime Membership to the Girl Scouts of the USA. It is much cheaper to do this while the young woman is still in high school, costing $195 versus $375 after she graduates. If you do not have enough money to cover each girl, perhaps her parents can pay the difference and the gift can be from both of you.
Honor Cords
To signify that they were lifelong Girl Scouts and/or earned the Gold Award, girls can wear a special Honor Cord at their high school graduation ceremony. Green is for scouting and green and gold is if they earned the Gold Award. Before purchasing these for your girls, they should first check with their school principal and get it in writing that they are okay to wear.
Once you see that it has been approved, you can purchase the cords at Honors Graduation.
Scrapbook or Photo Collage
While this generation is used to storing photos on phones and computers, there is nothing like a photo album or photo collage placed in a gorgeous frame that will provide a lifetime of memories.
If you have been keeping a scrapbook all these years, then you have plenty of photos. Hopefully they are stored on your computer or uploaded to a site so you can create a scrapbook from them. Perhaps you can borrow the child's Girl Scout scrapbook from her parents so you can scan the photos or take pictures of them to create your personal masterpiece.
If neither of those options are available to you, have your graduating Ambassadors dress in uniform and take individual shots of each girl and then a group photo. Create a photo collage from these pictures for each girl and place it in a frame.
There is always some kind of photo sale at Walgreens. Click on the banner to check out this week's deals.
Pearl Jewelry
It should be well known by your Ambassadors that the founder of the Girl Scout, Juliette Gordon Low, sold her precious pearl necklace in 1915 to get money to keep the movement going during its early years. While real pearls are more than likely not a part of your budget, you can get some beautiful simulated pearl jewelry to give your graduates. Here are some options that are budget friendly.
Scout Necklace
Here is another inexpensive jewelry option for you.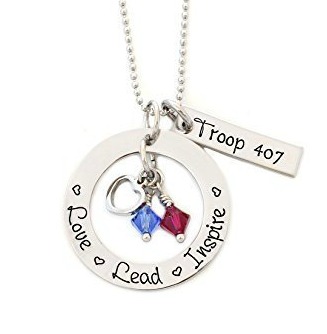 Customize for your troop number.
This bracelet is customizable. You get one word charm with your choice of expression and one charm with the girl's name and her birthstone. The bracelet is adjustable stainless steel.
What do you plan on giving your graduating Ambassadors?