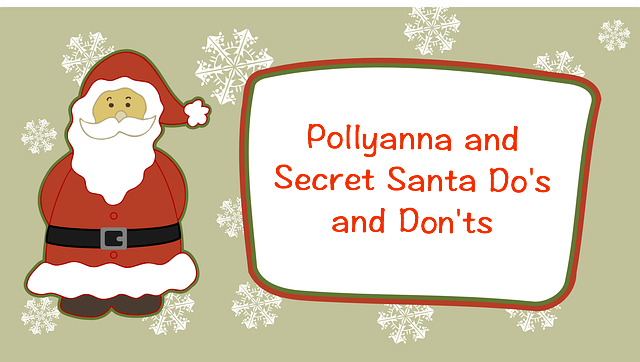 Photo from Pixabay
With the holiday season fast approaching, many troops like to have a party as their last meeting before the scheduled winter break.  Since both Chanukah and Christmas both fall in December, many girls want to do a Pollyanna or Secret Santa exchange.
I will state for the record that I am not a fan of this sort of thing.  My own childhood Pollyanna memories are not pleasant.  In first grade, I got a box of checkers from the grab bag.  In second grade, it was a used book.  Not the items fond memories are made of.
My older daughter's Girl Scout troop used to do a Secret Santa gift exchange.  Fortunately for her, she lucked out each time and got presents she liked.  In fact, her little sister just inherited a white furry Roxy bag that she received one year as a gift.
However, I cannot say the same for the rest of her friends.  I do know that one girl went home disappointed one year because she got a beautiful book set from one of the popular television shows of the time.  Unfortunately, she was not a fan of the show and she gave her gift away.
So if you really want to have a positive experience for each girl when you do a gift exchange, how can you do that?
First, send an email to each parent and tell them that you are going to have a gift exchange.  Set your limit for between five and ten dollars, whatever you feel is a comfortable amount for your troop.
Ask them to send you three small gift ideas that their daughter would like.  For example, pink nail polish, hair bands or craft items.  You will take these requests and put them on index cards for your meeting.
Remind parents that gifts should not be holiday based.  Many troops have girls who practice different religions, and Santa socks are not an appropriate gift for a girl who does not celebrate Christmas, no matter how cute they are.
Once you have made the cards with the girls name and the gift ideas, place them in a bag and at your next meeting, let the girls pull out one name and show it to you so you can keep a chart of "who has who".  Tell them not to share who they have or it will not be a surprise!
Before the gift exchange meeting, be sure to send an email reminding parents to bring the gift.  You might want to have a small back-up gift to give in case someone forgets.
Be sure the girls mind their manners and do not make faces or roll their eyes if they get something they do not like.  Remember to have them say "thank you" to their gift giver.
Following these few simple guidelines for a Girl Scout Pollyanna gift exchange will make it a happier experience for everyone involved.
Have you had a gift exchange in the past or are planning one this year?