Taking responsibility for a Girl Scout troop, no matter what age you lead, is a big job. I have been leading my girls since October 2008, and I still have to do a lot of prep work before each and every meeting. As a teacher for the past 28 years, lesson planning comes naturally to me, and I truly enjoy putting all of the elements together to create a meaningful learning experience. I find it a personal challenge to come up with the right activities for our badges, and make sure they are fun and engaging. My younger daughter, whose troop I lead, likes to help me get things together. I just have to make her promise not to tell her friends in school about what we are doing!
Over the years, I have developed a list of resources that I use to plan my meetings. There are books I use and websites I go to whenever I need to jumpstart my brain and find an activity, and I am going to share them with you.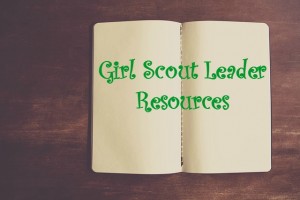 Girl Scout Leader Resources-Books
Books are a hands-on way to get focused and organized for your meeting. They answer many questions that you have about planning and what activities are needed to earn a required badge. They are a resource that you can keep in your Girl Scout leader bag or when you are waiting for practice to end. Keep a pen and sticky notes handy for ideas that come to mind as you are reading.
Daisy Girl Scout Leader-Tips for Running a Successful Troop
 from Amazon
I updated this book in June 2013 with new chapters and information for those who are beginning their journey as a Girl Scout leader. After receiving numerous emails over the years from Daisy leaders, I wrote this book to help brand new leaders get off on the right foot. From your initial parent contact to starting your first meeting, this guide will start you on your way. It does not discuss the Journeys program.
Games for Girl Scouts
Games for Girl Scouts
 from Amazon
This is a must have book for all leaders. It has games for girls at all levels of scouting, so it is an investment. You can use it every year.  Mine has been in my leader bag for seven years!
Girl Scout Leader Resources-Websites
The internet has really changed the face of everything, including Girl Scouts. Information is easily shared on the information highway. Here are some of the websites I have used over the years that have helped me a great deal.
All links have been tested and these sites are up and running!
 What Girl Scout resources do you use?