One of my favorite Girl Scout websites is makingfriends.com.  For World Thinking Day, they have a whole list of printable passports for you to download.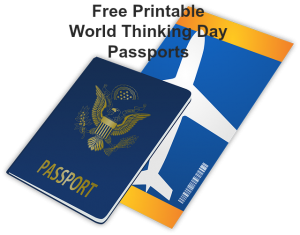 The countries available are:
Australia
Bolivia
Brazil
Canada
China
Egypt
England
France
Germany
Greece
Guyana
Haiti
Hong Kong
India
Ireland
Israel
Italy
Ivory Coast
Jamaica
Japan
Madagascar
Mexico
Philippines
Russia
South Africa
Spain
Switzerland
Tunisia
United States of America
Use this link to get to the list and click on the country you want to do!