Spring is here and so are the birds!  If you want to welcome them to your yard, here is an easy and inexpensive craft for your troop to do.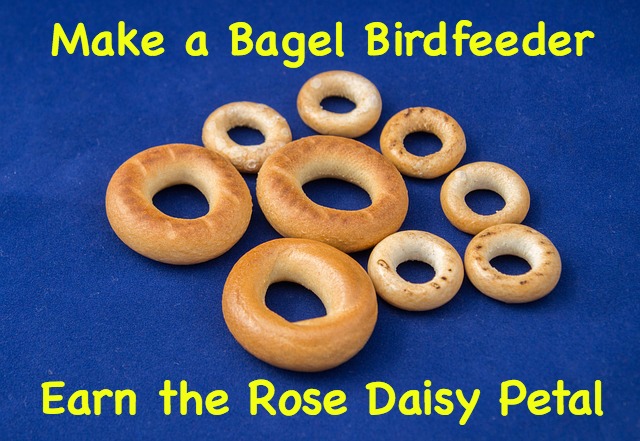 Photo from Pixabay
Because so many children have severe peanut allergies, it is important not to use it for this project, even if none of the girls in your troop has a peanut allergy.  If you are using a shared facility, like a room in the school, you can unintentionally leave peanut butter behind, even with the best clean up job. It is better to be safe than sorry.
This can be done to earn the rose Daisy petal, make the world a better place.
For this easy Daisy craft, you will need…
regular sized plain bagels
whipped cream cheese
string or yarn, pre-cut, one for each girl
bird seed
paper plates
aluminum foil
plastic knife
Sharpie
Give each girl half a bagel.  Have each girl put the string through the bagel and tie it on.  Be sure it is knotted a few times.
On the a paper plate, have the girls schmear the cream cheese.  Sprinkle birdseed and then cover with aluminum foil.  Write each girls name on the foil with the Sharpie marker.
The girls can bring it home to hang on a tree, or you can ask if they can be tied to trees at the facility where you meet.  Watch and see if the birds come and eat!