At our first Girl Scout meeting of the year, I had my girls go over the old Junior Badge Book and pick several different badges that they wanted to earn.
One of the top picks was the Stress Less Badge.
In order to get the six required activities, and not rush into anything and stress about it, I divided the activities into two meetings.
Items you need for this meeting:
Shoeboxes with unattached lids
Scotch tape-one roll per girl
Wrapping paper
Scissors
Booklet (template below)
Tulle circles
Potpourri
Satin ribbon
Pencil
Sticky notes
At our first meeting, we discussed what stress was and ways to cope with it.  The girls came up with many ideas, and we listed them on the whiteboard.
Then I took an idea from the Junior Badge Book and made it my own.  I emailed the girls' parents two weeks in advance and asked them to bring a shoebox with a lid and a roll of Scotch tape to our next meeting.
I had gone to Target with my daughter during the after Christmas sales and she found some non-holiday gift wrap at half-price. Then we dashed off to Jo-Ann Fabrics and found some potpourri for a craft project to put into the box.
At home, on my Hallmark Card Studio and made a booklet for the girls to put into their Stress Less box.
Here is what the page looked like: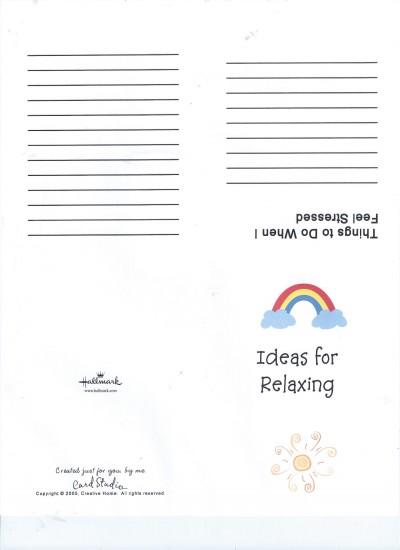 After the discussion, I had the girls go to different tables to spread out, three to a table.  My co-leader and I each took a roll of wrapping paper and helped cut them to size for the girls.  We needed the third roll I had bought and had enough for all nine girls.
I chose not to get extra volunteers because the girls are in fourth grade, and they have the fine motor skills to wrap their own box.  They may not have come out perfectly, but that wasn't the point.  They have to do things for themselves…how else will they learn?
Photo by Hannah Gold
Side note…I brought extra tape because a few girls had forgotten theirs.  Be prepared!
Once the girls finished their boxes, I helped them make potpourri sachets from a relaxing lavender vanilla scent I had found.  They put it into tulle circles, gathered them up and tied it with a ribbon.  This also went into the box.
Then they copied into their "Relaxing" journals the ideas we had discussed earlier in the book while my co-leader and I were working with the other girls.
Once that was finished, I gave them each a neon colored pencil and a pack of sticky notes for their box. This was so that when they were feeling stressed, they could write down what was bothering them, crumple it up and throw it away (both literally and figuratively).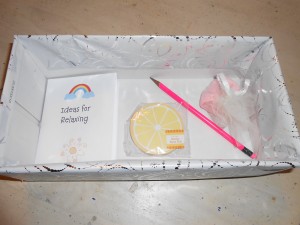 Photo by Hannah Gold
I told the girls that at home, they should add to the box anything else they could think of that would help them feel less stressed.
In my next post, I will share what we did to finish earning the Junior Stress Less badge.