Today was a big day for my troop, as we took our field trip to complete our Bronze Award.  Most of the parents came along, as they had vans full of donations for the animal shelter that they had collected as part of their twenty hours.  There was much excited when I went to pick up the girls at school and as always, I get a bit nervous when it comes time to making sure everyone is in the right car and has everything that they need.  I guess it is a holdover from my days as an elementary school teacher and I was always counting before we got onto the bus, as we went on our trip,at lunch, and probably ten more times before we loaded the bus to go home.
We caravaned to the animal shelter and was greeted by their staff who was waiting for us, since I had booked the date for a tour of the shelter.  Can I brag and tell you that you could barely get through the front door from all that my girls collected?  It was an incredible site and it just made me very proud.
The girls spent time in the cat room, then the dog room, and then the bunny room.  There was a question and answer session afterwards and then we all went home.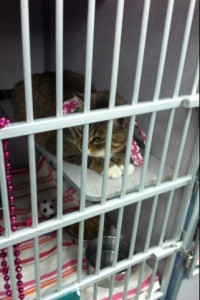 Earlier in the week, I gave my parents a link to complete the Bronze Award document online and send it in.  To date, nine of my eleven girls have completed the paperwork.  I know that for two of my girls, life circumstances got in the way of completing the twenty hours.  All of my girls received an Animal Shelter fun patch for their vests, so all of the efforts did not go unrecognized.
Has your troop completed their Bronze Award project?  If so, what did you do?