*This post contains affiliate links.
Yesterday was our very first Cadette Girl Scout meeting of the year, and it was also my first not being the leader.
My friend had emailed me asking some questions about what she had planned, and I though it all sounded good.  She had planned a rededication ceremony with candles, something that I thought was very brave since we were meeting in her home!  Parents were invited to stay and watch the ceremony, and most did.
She had a "sponge activity" (something to keep the girls occupied while waiting for all to arrive). She took the Girl Scout Cadette Guide and took it apart.  She had all of the badge work pages on her coffee table and asked the girls to loo over them and see what badges interested them to work on. They all were focused on the cookie page, since our leader is going to have them try selling cookies for the first time since they were Daisy Scouts.
The Girl Scout Rededication Ceremony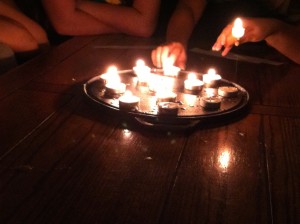 After nine girls arrived (we lost one who changed her mind and one was coming from dance and was late), the ceremony began.  The leader read this and the girls each took a turn lighting a candle.  Then, they took a strip of paper from a big bowl, and each paper was numbered. read it and blew out the candle. Then the leader read something else and the girls took turns reading and lighting another candle.  It was very sweet.
The parents left and then it was down to business.  The girls talked (and let me tell you, this gourd can talk!) and decided upon the marketing badge and the cookie badge.  Our Cookie Mom, a veteran from a different troop, discussed what they needed to do and the girls seemed excited.  Of course, this is new to them since I always had issues with cookie sales, and the Cookie Mom asked if I was okay with it.  I am fine with cookies as long as I am not running it (and that is what would have happened if I had sold them, and I already did everything else for the troop.  Cookies was my line in the sand that could not be crossed).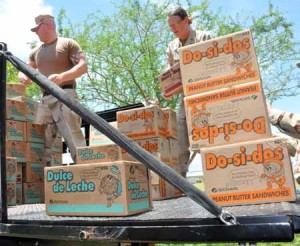 I was also fine with cookies as long as it was non-competitive and the emphasis was not he GIRLS selling them, not having Mommy and Daddy bring them to the office to do the work for them or posting on Facebook or Twitter to buy them. We also talked about a local organization that send Girl Scout cookies to the military, and the girls were highly interested in doing that as well.
Once the cookie discussion was over, then the girls were led to a discussion about what kinds of trips they wanted to take with the cookie money they would earn.  After that, they talked about service projects they wanted to try.
Overall, it was a chatty meeting but the groundwork was laid out for the year. I sent some emails about service projects the girls could work on and am awaiting responses.
We will meet once a month  and then take a trip or do a service project on sporadic weekends.
My daughter told me that it felt strange not having me lead the meeting, and in all honesty, it did feel strange to me as well.  But it was the right decision for me and I am going to be helping out, not just a warm body to meet the numbers quota.
How did your first meeting of the year go?