In my last post about my Cadette troop, I shared how we started to work on the Marketing badge since we are selling cookies for the first time since the girls were Daisy Scouts. In an email sent over the weekend, the leader had a change of plans.  First, our meeting date was changed and so was the focus of the meeting.  Instead of working on decorating our cookie booth, the girls would be making cards for our troops overseas.  I, for one, was glad for the change because I love service projects and with once a month meetings and cookie sales in the future, it was going to be late winter or spring before we could tackle a project.
This is not the first time my troop has done this kind of project.  In a detailed InfoBarrel article, I shared how my third grade Brownie troop baked cookies for our men and women in uniform.  I had them divided into three stations-cookie baking, card making, and tin decorating.  They needed a lot more supervision skill wise, but now that they are all 11 and 12, the focus was not so much on skill but with staying on task.
Now as 6th grade Cadettes, they only need a bit of direction and an occasional reminder to stay on task.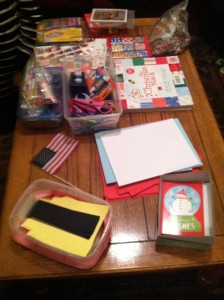 The leader and co-leader brought in their stickers and materials and then the girls went to town.  We were able to just sit back and chat while the girls socialized with each other.
This is the main reason that when I stepped down as leader another parent stepped in my place.  The girls had been together since kindergarten (5 of the 10 started with me back then, then three joined in first grade, one in second grade and one in fifth grade) and our middle school is set up into teams.  One team is on one side of the building and the other team is on the opposite end.  The children do not get to see each other at all, not even for lunch and recess, as that is kept separate.  From my older daughter's experience, close friendships unravel and end because of how the school is set up.  By keeping the troop together, the girls have time to just sit back with familiar faces and keep the threads of friendship going.  While it is true that over the years there have been changes to the friendships, overall, they have endured and we can thank Girl Scouting for this.
After making some really gorgeous cards, it was time to decorate cookies.  Because these were a bit messy, they were not going to be sent to the troops.  The other co-leader had made them and every girl had her own cookie decorating kit at her place.
They enjoyed decorating and eating their masterpieces!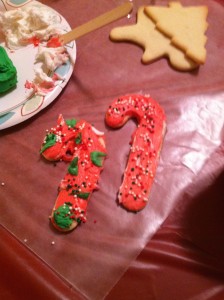 In January, we will be getting our cookie booths in order and then training the girls on how to run them.
What service projects have you done this month?