*This post contains affiliate links.
World Thinking Day, which takes place every year on February 22nd, is an important Girl Scout holiday, as it connects sister scouts from around the globe. Here are some ideas for Swaps to make.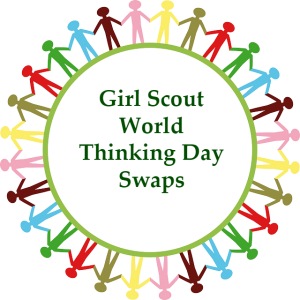 There are three Girl Scout holidays that scouts around the world celebrate. The first is Girl Scout Founder's Day on October 31st, which celebrates the birthday of Juliette Gordon Low, the founder of the Girl Scouts of America. Another holiday is Girl Scout Week, which takes place Sunday, March 9, 2015 to Saturday, March 15, 2015. This week honors the birth of the Girl Scout movement, which is March 12th.
In between these two Girl Scout holidays is World Thinking Day, which takes place on February 22nd. It was the brainchild of attendees at the 1926 Girl Guide/Girl Scout International Conference. They wanted girls involved in the scouting movement to think about each other, as they are "sisters". The date was chosen because it was the mutual birthday of Lord Baden-Powell (founder of the Boy Scout movement and close friend to Juliette, who inspired her to start the Girl Scout movement in America) and his wife Olive, who was also heavily involved in the scouting organization.
Every year, the Girl Scouts of America pick a theme for each World Thinking Day. The theme involves making the world a better place and helping those around the world who have less. For 2013, the Girl Scouts around the world will be working on the theme "Together we can save children's lives."
On the Girl Scouts of America website, there are activities for every level of scouts so leaders have a plan to work with. Leaders can also decide what country the girls will learn about and focus on. In addition to these activities, troops make Swaps that tie into the country they have chosen to study.
Girl Scout Swap Bead Kits
Swaps can be made from any kind of material. For many leaders, especially those of younger girls, Swaps made from beads are easy to make. Girls have the fine motor skills to use elastic, lanyard and pony beads to make their own creations.
World Thinking Day 2015 Resources
Here are links to some wonderful resources for leaders.
World Thinking Day Swaps-12 Ideas made by an actual troop
Dozens of Swaps-There are Swaps for many countries on this site.
Making Friends-Ready made Swap kits are available for many countries
Dozens of Swaps Part 2-More pictures of Swaps to make