The picture appeared in my Facebook newsfeed and I felt my heart break. A local food bank posted a picture of empty shelves.
Totally barren.
It is sad to think of families going to seek assistance, only to be told that there is no food to give.
This week, my girls are going to do their share to make the world a better place, to be friendly and helpful and to be considerate and caring.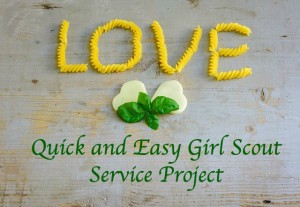 After clearing it with the leader, I sent an email with the picture and asked the parents to show it to their daughters. I felt that the visual would make an big impact. I saw my own daughter's reaction when I showed it to her. Her jaw dropped and her faced grew quite concerned.
I sent parents the link to the food bank's website with their most wanted items list and asked them to bring a bag of food to our meeting this Thursday. If the girls could not attend, I would pick up the bag at their home. All of these food items are already on most (if not everyone's) shelves. Pasta, tomato sauce, tuna fish, cereal, canned fruit and vegetables…no extra effort was needed on their part. I simply asked them to go to their pantry with their  daughter and fill the bag. I will deliver the bags.
Unlike our big canned food drive,  where we collected over 2,200 cans and boxes when my troop was in third grade, this is not a major undertaking. With busy spring schedules and the last minute urgency, this cannot be that kind of food drive.
But that does not mean that we cannot make a difference in the lives of others. It is the small things that add up to making a change.
There are 10 girls in our troop, and that means 10 bags of food will be brought to the food bank. It may not fill up the shelves, but we will be able to feed a few families.
Imagine if every troop leader did this in their own community…the shelves would be filled.
It is not too late for your girls to do a quick and easy service project to end the year on a positive scouting note!