One of the things I love about being a Girl Scout leader right now is that it is much more laid back than when I first started. Although I stepped down as the 01 Leader at the end of fifth grade, I have still been involved as an 02-present at every meeting and in charge of finding community service projects for us to do.  With another co-leader who is the Cookie Mom, the efforts of running the troop has been made easier for the 01, who steers the ship.
November was a difficult month for us to meet on our regularly scheduled night, so we skipped it. Since December has traditionally been a month when my troop does a service project, I wanted it to continue. My synagogue hosts a group of homeless men for two weeks every December as part of an interfaith hospitality project. One part of what we do is feed them and the volunteers who run it. In the past, my girls made gifts and sent in snacks for each person (you can read what we did in this blog post.)
Since we are small group of five 7th graders, I wanted to do something more hands on. I love to bake, and this is the season for it, so I decided to have the girls bake treats for the men. When the girls were third grade Brownies, we did a HUGE cookie baking for the soldiers project (you can read the guide to how I did this in stations with lots of volunteers in this article). This would be a bit different, since they are older and require less help.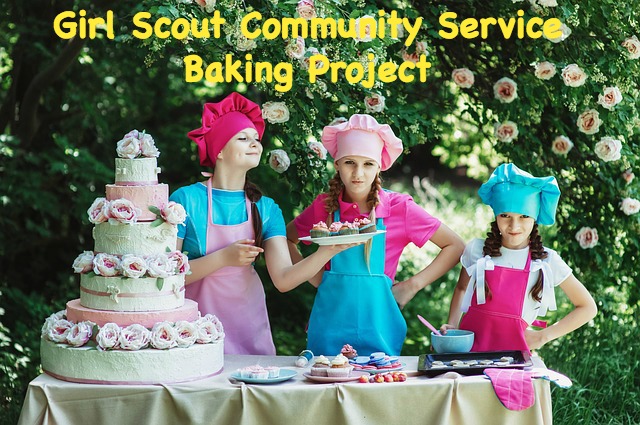 Photo from Pixabay
Here is how I planned this project.
The key to finishing on time is to be organized. With only one oven, there are only so many trays that could be placed in there at one time. I had 2.5 hours for the meeting, which wound up to be more than I needed.
We were meeting after school on a Friday in my home, and since I now work every morning, all the prep work had to be done in advance. As always, my daughter was my assistant.
In order to save time, I bought box mixes for cake, cookies and muffins. My daughter and I baked the cupcakes and sugar cookies in advance so they would be completely cooled so they could be decorated the next day. That left the muffins and chocolate chip cookies to bake when the girls came over.
Being the mother of twins, I have two (or more) of everything in the kitchen. Baking together has been an incredible bonding experience for my children and me, even in these early teen years. Working together in the kitchen has proven to be a conflict free experience that results in tasty treats for us all.
Once the girls arrived, we started the baking process. First, the girls lined the muffin tins and then made the batter. Once they were all scooped into the pan and in the oven, the girls made the chocolate chip cookies. The cookies went in once the muffins were done.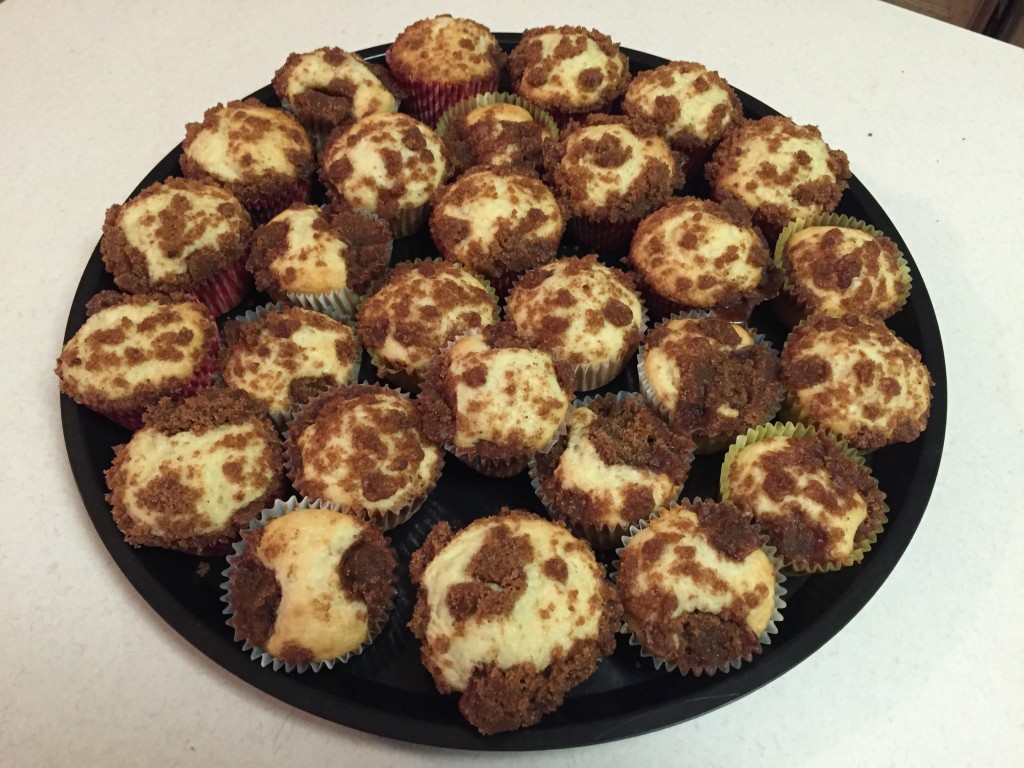 Photo by Hannah Gold. All rights reserved.
While everything was cooking and cooling, the girls began to decorate, which, as you would image, a huge hit! I made a sugar cookie glaze right before they arrived, and the girls used that and assorted sprinkles and sugars to create their masterpieces.
Once the cookies were done, they used tub frosting to decorate the cupcakes. I also gave them chocolate chips to use as decorations as well.
There was plenty of extra so the girls could have a sample of their own.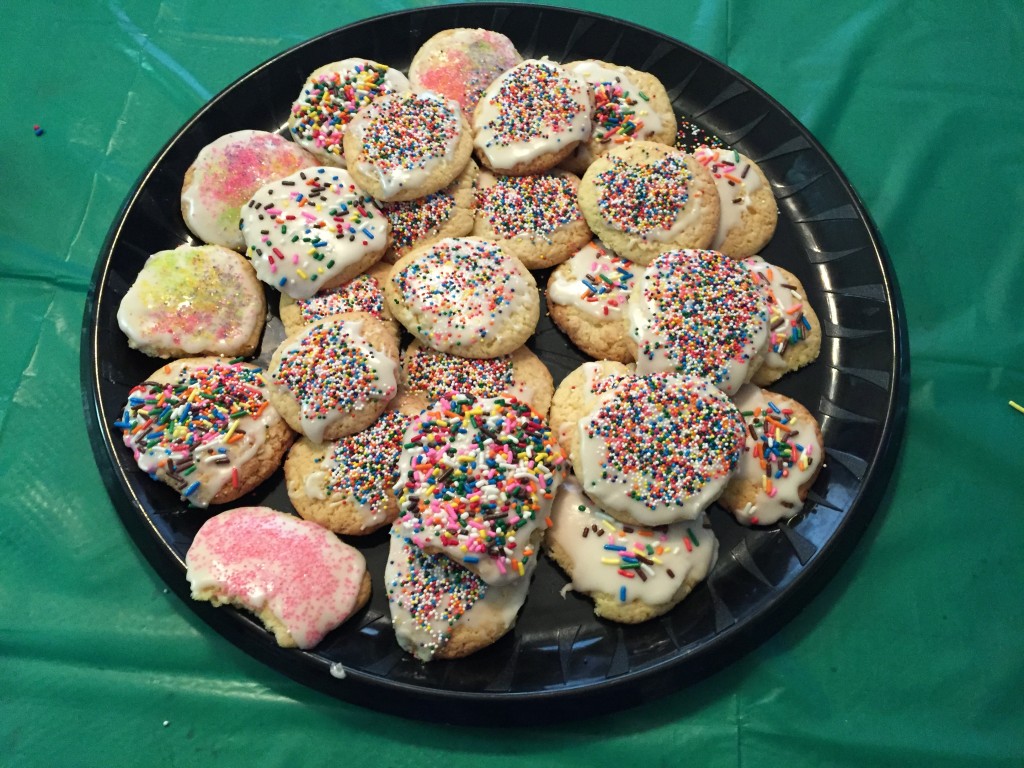 Photo by Hannah Gold. All rights reserved.
(No, that isn't a cookie bite-a piece fell off when moving it to the serving tray!)
Clean up was easy, as I used parchment paper for my baking stones, muffin liners for the muffin tins and I washed everything as we went along. I used a plastic table cover from the Dollar Store for my kitchen table, so when everything was done, I just rolled it up and tossed it out.
We had about a half hour left before pick up, and the girls did not want to make cards. Since they had not been together as a group since our October camping trip, I let them just hang out and have fun in my basement. They enjoyed that and, in my opinion, it is also a crucial part of the older Girl Scout experience. The girls go to different middle schools (three go to one and the other two go to the other one in town) and will not be together as a group until they all go to the same high school. And since ours is huge, the likelihood of them being in class together is small. Giving my girls time to bond in a casual setting, without any adult assisting in an activity, will help them continue their friendships that will, hopefully, lead them to continue being active in Girl Scouts.
My girls had a great time and I also enjoyed the experience as well.
Have you done a service project this month? What did you do?