*This post contains affiliate links.
Now that we are knee deep in the holiday season, there are going to be arguments on the various Girl Scout Facebook pages that I read. They discussions do not change and nor do the opinions of the various posters.
The December Dilemma is something I wrote about at length two years ago. Not everyone celebrates Christmas. If you have a troop where there are girls of various beliefs (and non-beliefs), it becomes a landmine of sensitivity. As a public school teacher for many years, I avoided this in my multicultural classroom by not celebrating any holiday. Sure, the kids would talk about them, but doing crafts or lessons on them is not something I, nor my colleagues, did.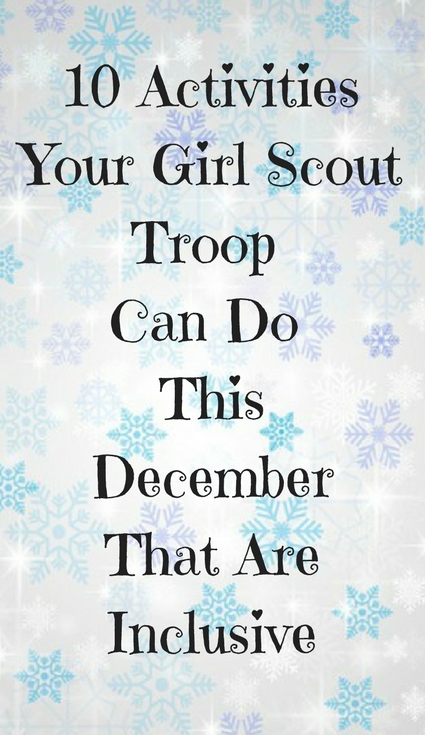 Photo from Pixabay
My Girl Scout troop has always had girls of various faiths in it. As a leader who is Jewish, I was not comfortable doing Christmas activities. However, each December for the past six years, my troop has participated in a community service project that is multi-faith. I have written about it in the past (here is a post about it).  Last week I was asked by the women in charge of this project if my girls would bake again, like they have the past few years. Of course they will! It has become our personal Girl Scout tradition!
Girls have the opportunity to celebrate their family holiday at home and at synagogue or church. Not having a "Christmas party" will not cause any personal damage. In fact, Girl Scouts may be the one place where your girls get a chance to do something for others during this time of year. Giving to others, helping others, and thinking about others in need may be a refreshing change to the commercialism that has now overtaken an important holiday.
So what can your troop do instead of celebrating any December holiday?
1. Bake for the Military 
See if you have a local organization that sends packages overseas or to those living on local military bases to our mlitary who will not be home for Christmas.
2. Visit a Nursing Home
Residents enjoy having visitors. Your girls can sing songs for them-not just holiday, but some Girl Scout favorites as well! When my Nana was in a geriatric home, she enjoyed the children who came to sing for the Jewish holidays (it was a Jewish home). Play Bingo with the residents or prepare a simple craft that you can do together.
3. Build a Marshmallow Igloo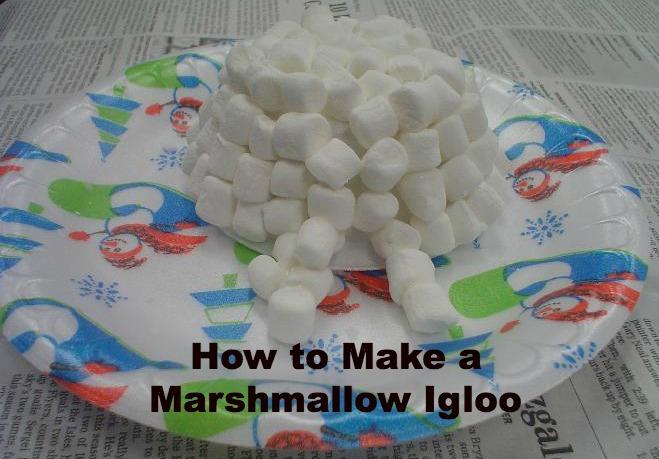 Photo by Hannah Gold
I did this with my son's class many years ago. You can find the directions here.
4. Play Minute to Win It Games
Pinterest is full of great ideas for quick games for the girls to play that will make your meeting time rock. You can award a prize to each participant at the end if you wish.
5. Make Thank You Gifts in a Jar
Have the girls make gifts in a jar for someone in their community. If you meet in a school, make one for the principal, school nurse, secretary, custodians…anyone who deserves a thank you! Or you can make them to deliver to your local police station or fire house.
Decide if you want to make a soup recipe, a cookie recipe or a hot chocolate recipe. Make an assembly line and have the girls add a card for a personal touch.
6. Make a Sock Snowman
Here is a fun activity that requires no sewing! You'll find the complete directions here.
7. Make a Winter Craft
There are many winter crafts that are non-denominational that you can do. They come in ready to use craft kits so planning is easy for you.
Make a Winter Charm Bracelet-Comes With 12 Available on Amazon
Snowman Foam Frames
-Comes WIth 12-Available on Amazon
Penguin Bean Bag Sewing Kits for Children-Comes WIth 3
8. Go on a Field Trip
Do something fun with the girls, like go to a trampoline park, go on a Panera tour, or take a free class. Use that cookie money from last year as an incentive to have the girls sell this season so they can go on more fun trips all year long.
9. Visit a Sister Troop
Most areas have more than one troop. Why not meet up with another troop and get to know each other? You can make Swaps together, play games, and get to know other girls in your area.
10. Have a Tea Party
Why not have a tea party and get dressed up in your finest? It is a fun and a way for girls to earn their Manners Try It if you are Brownie Girl Scouts