I would like to thank Jodi Carlson from Leader Connecting Leaders for her informational guest post about how to run a multi-level troop. With fewer parents stepping up to lead troops, this kind of scouting is becoming more prevalent as leaders accept girls who want to have the Girl Scout experience, but have nowhere to join. Here she shares her ideas on how you can run yours like she does.
*All images used with permission.
Planning & Running a Multi-Level Troop With Ease
If you have a multi-level Girl Scout troop or are thinking about running a troop with more than one level, this information is for you. I hear about the struggles of running a troop with multiple Scouting levels, and since I ran a multi-level troop with every level for over 15 years I thought it be great to share some tips.
The most important thing to remember is that you need to stay super organized and get a lot of help from your parents. Even if they don't want to be leaders with the title, you will find many parents are already doing everything a leader would do.  Eventually, you can show them that getting their leader training will just make it official. By leading a multi-level troop, you are creating for yourself a troop community with endless opportunities for your girls to be leaders to other levels. Even your Daisies can teach and lead your older girls!
Today I want to share a game to play with all your girls in a multi level troop and introduce you to some badge activity booklets I have put together for each level as a resource to help leaders like you run your meetings with ease.
Four Corner Game
This is a game that is simple and can be adapted to any holiday, event, or activities you are doing at your meetings. It is a great opportunity for your girls to burn off some energy before jumping into badge work, or you can save it for the end of the meeting before sending them home with their parents.
What You Need
4 corners of the room
4 images (see below for ideas of themes for images) print each image 2 times
Something to draw from (box or bag)
How to Play
Put one image into each corner of the room, the second set of that same image fold up and put into a box or bag. Tell each girl they must choose a corner to stand in. Once everyone is standing in a corner, draw one of the images from the bag. Everyone standing in that corner is out. Put that image back in bag. Then tell girls move around to a new corner or they can choose to stay where they are. Again, draw an image. If they are standing in that corner they are out. Continue this until only one person is remaining.
Variations for Images
Girl Scout Laws: Be A Sister To Every Girl Scout, Honest and Fair, Respect Authority, Making the World a Better Place (These would just be words or put image with words)
Cookie Time: Thin Mints, Samoas, Trefoils, Tagalongs
Easter: Easter bunny, eggs, easter basket, little chick
Christmas: Christmas Tree, Santa Claus, Elves, Reindeer
Hanukkah-Chanukuah menorah, dreidel, candles, gelt
The options are endless
Daisy Girl Scouts
If you have a Daisy troop and are ready to earn your petals, check out the Petal Fairy Garden Adventure Activity Booklet. which has everything you need to earn the 10 petals and promise center. This activity booklet will take your girls on a garden adventure with their new petal fairy friends. The petal fairies will help your girls learn how to live by the 10 fairy laws one activity at a time by completing 4 different sections of activities for each flower petal: Practice and Learn, Be Creative, Get Moving, and Put What They Learn into Action. Each petal also includes an additional activity and/or song to add to your troop's meeting. With many of the extra activities you can get your other levels involved by helping with service projects or singing the songs as a troop.

Booklets are designed to fit into your troops budget and the leaders style of teaching.
• Three different ways to purchase the Petal Fairy Leader Booklet
◦ Activities for one Petal Law at a time
◦ Print Leader Booklet with all 10 laws and flower center at home
◦ Mail Leader Booklet with all 10 laws and flower center to your home
• Three different ways to purchase the girl activity booklet add on:
◦ Petal Fairy Sticker sheet with 95 stickers so girls can create their own garden scenes.
◦ Cut and paste activity booklet (purchase once and print as many as you need).
◦ Sticker activity booklet for each girl which comes with all templates for the program and 95 stickers.
Brownie Girl Scouts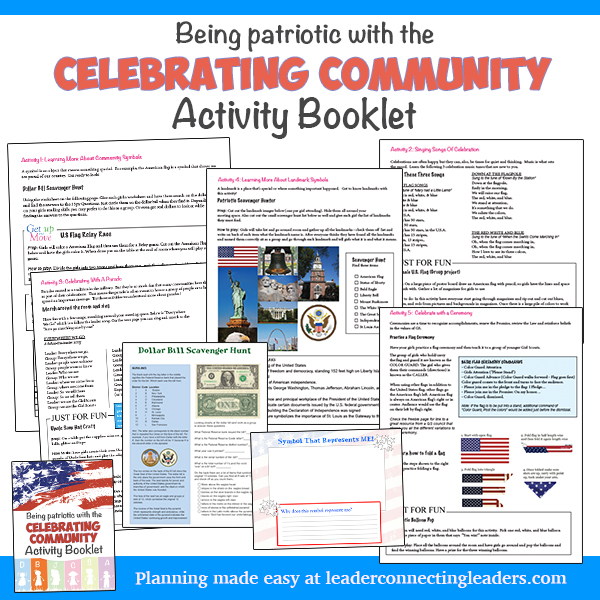 The Celebrating Community Activity Booklet for Brownie Scouts has everything for your girls to learn more about symbols in their community, new songs, how to fold a flag, do a patriotic craft and a number of interactive worksheets and games to reinforce what they are learning. For the final step, the girls will learn how to do a flag ceremony. As a multi-level troop, you can use this as an opportunity to let the Brownies lead the rest of your troop and teach everyone how to do a proper flag ceremony.
Junior Girl Scouts
Junior troops who want to learn more about how frontier girls lived in the past can earn the Playing the Past badge. This activity booklet will take your girls on a journey to imagine what it was like to live in the past by walking in the shoes of a frontier girl through a fun relay matching game and a song from frontier times. The girls will play a frontier memory game, which is a great opportunity for your Juniors to share what they learned with your Brownie group.
Cadette Girl Scouts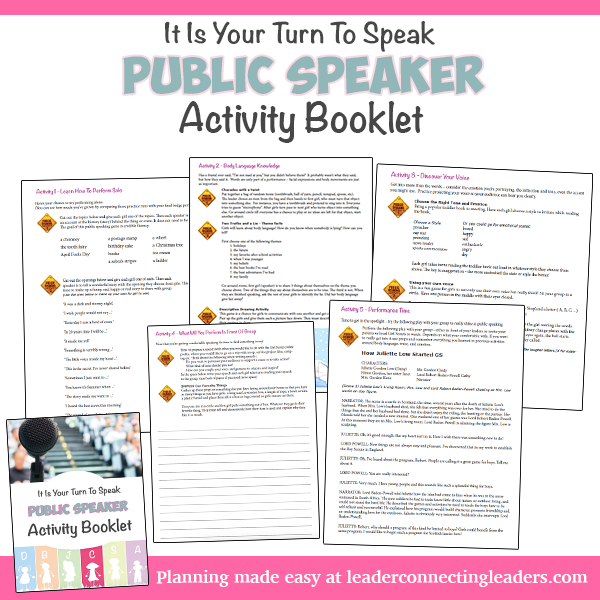 If you have a Cadette troop and you want them to be able to get in front of others and speak, the Public Speaking Activity Booklet will have your girls practicing performing solo and with a group. They will work together doing communication games to help them feel more comfortable talking in front of others. In addition, they will learn about how body language affects the way a person comes across while speaking, and create a speech of their own and perform a play together as a group. When it is time to perform the play bring your whole troop community together to watch the show.
Senior Girl Scouts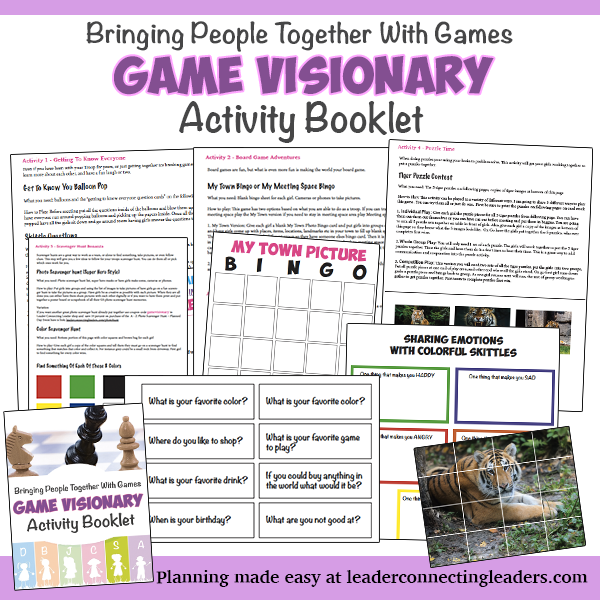 Senior troop members can learn more about all kinds of different games while earning the Game Visionary badge. The activity booklet will have your girls playing a number of fun interactive games to get to know each other better, put together a real world bingo game, challenge each other to a puzzle showdown, create a physical obstacle course, and have fun on a scavenger hunt. After the girls create their obstacle course, you can include the rest of your multi-level troop in on the fun and have them all run the course.
Ambassador Girl Scouts
Ambassador troops can learn how to go out and live independently after graduation. The On My Own activity booklet  will have your girls thinking about life using worksheets for budgeting for life, gift giving, and financial emergencies. There is an activity to create a savings bottle for financial emergencies, a Price is Right game, and a role playing activity to learn more about finding a place to live. The whole booklet is broken down into 5 sections with 2 activities for each. One will be a fun game or activity the other is a real world experience activity. After the girls play the Price is Right game, they could become the host and play it with the rest of your troop, specifically your Cadettes and Seniors who will soon be thinking about the same thing your Ambassadors are doing now.
I hope these ideas help make running your multi level troop a little easier, and just remember have fun and build a community with your girls and parents that you can always depend on for help. Everyone is a leader in Girl Scouts!
About Author
My name is Jodi Carlson, I am a mom, wife, & web designer and come with 25 years of Girl Scout experience. I am now sharing my experiences and helping other Girl Scout leaders be great and successful and shape today's girls to be the leaders of tomorrow. I was blessed with a Son in March of 2015 and stepped down as a full time girl leader, but missed planning and volunteering, so I decided after 25 years I have so many ideas to inspire girls and help leaders so I choose to build a blog that has turned more into a community of Leaders inspiring our girl leaders of tomorrow. My blog is Leader Connecting Leaders.