*This post contains affiliate links.
During our
first troop meeting
, the girls voted on where they wanted to go on a field trip.  A hands-down winner, with all of the girls present voting 'yes" was to go to Build-A-Bear.
I called our local store to book the trip, and asked about the Girl Scout 100th Anniversary Bear.  They had them in stock, as well as the Junior uniforms the girls were going to dress them in.  I asked the representative on the phone to put nine aside so that my girls would all be able to buy them and put them on their bears during the trip.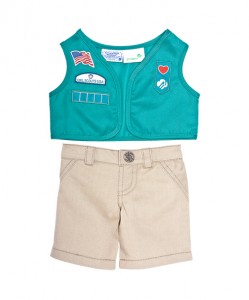 The anniversary is bear is $15.00 and the uniform is $12.50, for a total of $27.50.  Because we do not sell cookies, the parents have the option of the bear only or both, since our dues are for meetings, crafts and badges only. I will bring my tax exempt form when I pay for the trip with a troop check. 
I have one mom who is volunteering to come, so with nine girls plus my son, my-co-leader and I are covered.  I already have my troop approval number and am just waiting for all of the checks and the paperwork to come in.
Have you taken any field trips yet this year?  Are any in the planning stages?  Where are you going?