This week I had an interesting conversation with another teacher at my synagogue's preschool, where I have been working as a long-term sub.  While watching the little ones run around and play, a new teacher and I started chatting.  I know this woman casually, as our kids were in preschool together and our daughters are in the same bunk at camp.
I was sharing with her how I bring my love of teaching into my troop meetings, and she said quite snarkily, "Oh, I would never be a leader!".  I asked if her daughter was a Girl Scout, and she said, "Yes! She loves it!".
I then said, "Isn't your daughter lucky to have someone who wants to be her leader?".  Then I walked away.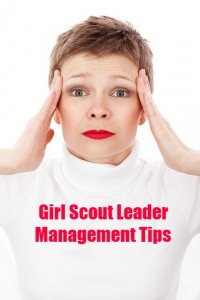 Ladies, give yourself a pat on the back for stepping up to the plate.  I know that our volunteer job is not always easy.  Things happen that make us upset, cringe, or wonder why we continue being a leader. There are parents who are quick to judge and blame, but would never help out.
How many of you have ever received a "thank you" note, email or even a small gift from your girls for all of your time and effort?
To help us through the challenging times, I wrote this article, Girl Scout Leader-Tips for Maintaining Your Sanity.
I hope it helps!