In my last post, I shared how I get organized for my meetings by planning out the year and then breaking it down into smaller chunks.  Here is what I do right before the meeting…
When I worked as an elementary school teacher, I always left my classroom prepared as if I would not be in the next day.  I had one folder for each day of the week, and inside were all of the papers I would need for the next day, labeled with the words "Reading', "Math", etc.  All of these folders would be filled on the Friday afternoon before the next week began.
Why did I do this?
Because when I finished graduate school, I did not have my own classroom; I worked as a substitute teacher my first year after graduation.  I walked into way too many classrooms that were a not prepared for the next day's work. For teachers who knew the would be out at an inservice or taking a personal day, those rooms were typically fine. For teachers who were sick or had some other family emergency, those were the days that I took it one lesson at a time.
Quite honestly, it made the job of teaching more difficult.  Remember, these were the days before emails, texting and faxes-instant communication to get plans in at the last minute.
My Junior troop meets on Friday afternoon right after school.  Many times, I am called into sub at my synagogue's preschool on Friday afternoons, and sometimes it is at the last minute.  There are also days when I am asked to stay the full day when I am only scheduled to work the morning classes.  That means I will get home at 2:15 and I have to be at school no later than 3:00.
I like to have a little down time before my meeting, and if I am scrambling to get things together when I get home, I will be stressed.
My plan of action is to have all of my materials purchased and prepped no later than Wednesday.  Fortunately, my daughter loves to help me, and it is a bonus that we get to spend time together preparing.
On Thursday, my tote bags are filled, double checked, and at the front door, which is my launch pad.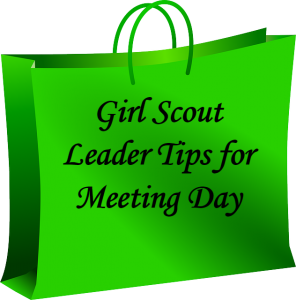 Because I am a woman of a certain age, I also have a sticky note on the front door reminding me to bring my daughter's snack and my water bottle with me.
On Thursday mornings, I send out a reminder email to the moms that we will be meeting the next day (this is a follow up to the Monday email I send out asking them to bring in certain things if necessary).   This is necessary, because not everyone marks their calendars for meetings
.
On Friday, if I have not worked in the afternoon, I make myself a cup of coffee and watch the latest episode of The Big Bang Theory On Demand.
It is an adult show that I cannot watch with my children around.  It puts me in a great mood and when it is over, I take my packed tote bags (with snacks inside) and head into my mini van to run the meeting.  The coffee gives me the energy boost I need to keep me on my toes with all of my girls!
This routine works for me, especially since I never know when I will be working.
What do you do before your meetings?