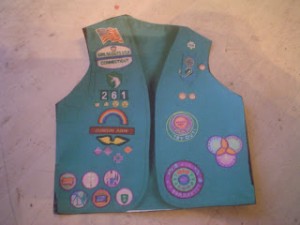 It is hard to believe that after six years, I will no longer be in charge of my troop.  Next fall, I will be a leader who shows up to help at meetings and go on field trips, but that is all.  I am very comfortable with my decision and am looking forward to staying involved with Girl Scouts, but on a much less intense level.  If  the new leader needs me, she knows that I will be there ready to help.
Our first meeting in May was a field trip to Pump It Up.  It is only five minutes from the school most of the girls attend, and since we booked it before 4:00, I was able to book the party at a reduced price.  The girls loved it and they did not want to leave when the two hours were up.  It certainly was an easy meeting for me…just sit and watch!  There were three attendants who were in charge and I tipped them generously for giving me a day off! (For the record, I was told by the manager when I inquired about how much of a gratuity to leave that some troops do not tip…shame on them!  My oldest daughter worked at a birthday party venue while in high school and these teens really work hard for their money).
For our final Junior meeting, we will be finishing our scrapbook.  The two main things to scrap are our Bronze Award field trip and our Pump It Up trip. Before we get to this, I will be doing a brief Court of Awards ceremony to hand out the following:
10 out of my 11 girls earned the Bronze Award
3 more will be getting their 5 year pin
Everyone will be getting a new membership pin
Then off to scrapbook and then home.
It will be a nice, yet strange feeling to not have to live my Friday afternoons around Girl Scout meetings.