Ideas and Resources for Camping With Your Girl Scout Troop
*This post contains affiliate links.
When Juliette Gordon Low founded the Girl Scouts of America on March 12, 1912, she was a woman on a mission. Born into a life of wealth and privilege, she had a vast array of interests including art, nature and athletics.

Juliette, who was nicknamed Daisy by an uncle when she was young, did not have the happiest life (money does not make you happy). She moved to England with her husband, William Low, who was a native of that country. Theirs was an unhappy union, and they eventually separated but never divorced. She contested his will after his early death and won a substantial sum of money.
Still looking for a purpose to fulfill her life, she eventually helped out with the Girl Guides in England. Daisy took this movement to the United States, and on March 12, 1912, the first two Girl Guide patrols were started. The name changed to the Girl Scouts of America a year later.
The Girl Scouts were to serve many purposes for young girls, including skills for being a homemaker, having a career and offering opportunities that might not otherwise have. Giving back to the community and becoming a leader were also a linchpins of the early Girl Scout movement.
Another important part of Girl Scouting is developing a love of nature and being outdoors. This was typically a boys domain back in the early 1900s, and Daisy set out to change that with the Girl Scouts.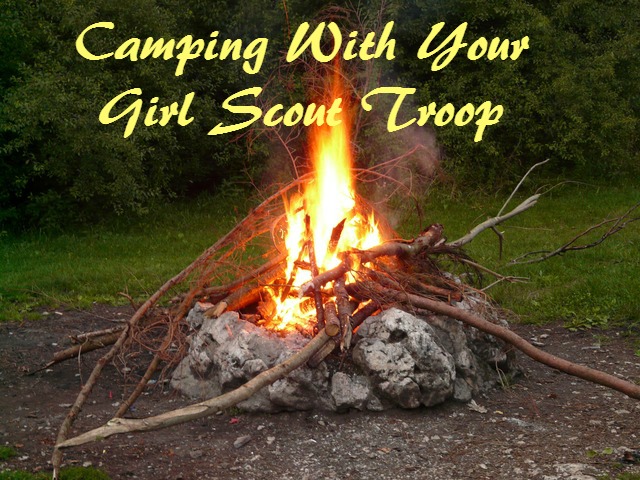 Photo from Pixabay
The Purpose of Girl Scout Camping
While there is no rule saying that Girl Scout leaders have to camp with their girls, the vast majority do. As mentioned previously, camping and learning about the great outdoors is one of the building blocks of the Girl Scout movement. As humans, it is our job to learn about the earth and protect it. Part of the Girl Scout law is to "make the world a better place", and one interpretation of that is to take care of not only people, but our planet.
Girl Scout camping offers girls the opportunity to sleep in a tent or a cabin, something that their own family may not want or be able to do. Many troops use the proceeds from the cookie selling to sponsor these outdoor camping adventures, so the additional costs to parents is minimal or even non-existent.
Camping also permits girls to build upon skills that they have learned at troop meetings in preparation for the big camping event. Learning about fire safety, how to tie different knots and other outdoor skills can be taught indoors during meetings. These skills are then taken outdoors and new ones are introduced during the outdoor camping experience.
Camping Books for Girl Scout Leaders
Taking a group of girls camping can be a wonderful experience for all involved…or it can be a complete mess. One thing I encourage every leader to do is read as much as you can and have a game plan for your trip. If your local Girl Scout Council has a committee for planning a camporee event, then your help will not only be appreciated by them, but you will learn a great deal in the planning process.
Below are books that can help you plan your camping activities when you are camping with just your troop and do not have an entire program laid out for you.
The 175 Best Camp Games: A Handbook for Leaders
 from Amazon
The Down and Dirty Guide to Camping with Kids: How to Plan Memorable Family Adventures and Connect Kids to Nature
 from Amazon
Camp Out!: The Ultimate Kids' Guide
 from Amazon
Are You Camping Certified?
A Girl Scout leader cannot take her troop on any kind of camping overnight until she has taken the required courses. There also has to be a certified First Aider on the trip as well. If you think that you want to take your girls camping, be sure to take these classes in the fall so you are prepared for spring and summer camping season.
When Should You Take Your Troop on a Girl Scout Camping Trip?
A question many leaders of younger girls (Daisy Girl Scouts in particular) ask themselves is if their girls are ready for an overnight which is both outdoors and without Mommy and Daddy. Even if the girls are camping in a cabin, it is an unfamiliar place with adults whom they know, but still, it is not their parents. And on the flip side, many helicopter parents may want to go on a trip like this, and there is simply not enough room for all of them and other troops and leaders.
If your Council offers an outdoor camporee for its local troops, you may want to initiate Daisy Scouts with a day of outdoor activities and then go home. You can always take them overnight camping when they are older.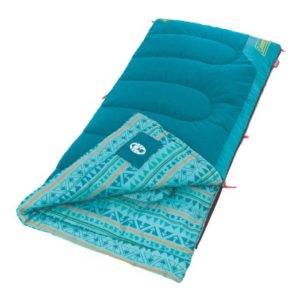 Coleman Kids 50 Degree Sleeping Bag from Amazon (other colors available)
Another option for young girls is to go "backyard camping" for the evening or for an overnight (as long as you have overnight certification). Being able to get together at night, gaze at the stars, listen to the night sounds, learn about fire safety, read traditional campfire stories and make s'mores or other food in foil can be a gentle introduction to the world of outdoor activities. Overnights can take place during the Brownie years, perhaps with a troop sleepover at the leader's house to see how it goes and then camping together.
By slowly introducing the outdoor experiences to you girls, you will give them a love of camping that is age appropriate.
In my next post, I will share some more camping resources for leaders.