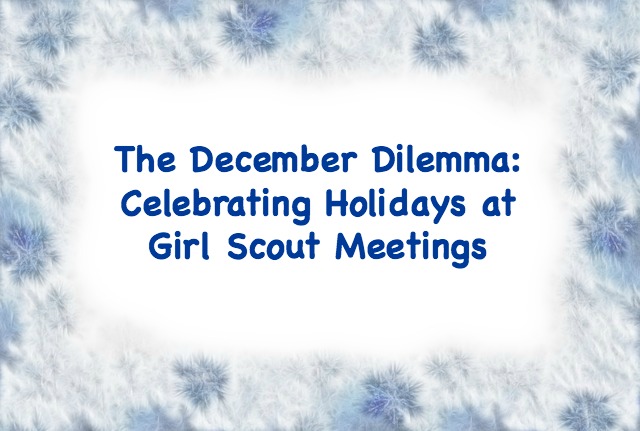 In a recent discussion in the Girl Scout Gab Facebook group (one of the most informative for leaders of all levels, IMO), a leader posed this situation.
Her entire troop celebrates Christmas except one girl who is a Muslim. What should she do? In her words, she wrote, "…did not want the majority of girls to miss out on fun stuff like Secret Santa etc… because of one person.
The responses, were, ahem, enlightening, to say the least.
I am Jewish. If you have read my blog for any length of time, you know I have shared my feelings about celebrating holidays and gift exchanges (this blog post from 2011). I have shared some fun winter party craft ideas and the importance of being INCLUSIVE with every girl in your troop.
I was not surprised that those who were against having a Christmas party were, for the most part, either Jewish or agnostic. Leaders shared how, as children,  they were left out of celebrations or made crafts that had no place in their home. This did not create a sisterhood for these girls, but a bad memory that lingers on as adults.
The thread got a bit nasty, as some accused others of "spoiling the fun" and "making the children suffer" over one child's inability to celebrate Christmas at a troop meeting. When the heat of the debate is over and those passionate can think more clearly, is it true that  a child will "suffer" if a holiday is not celebrated for a 60 or 90 minute gathering?
Of course not.
Some leaders shared that they extended the invitation to go caroling or do other Christmas related activities to non-Christian girls and then called it "being inclusive".  It is not. Those who are devout are unable to participate in the celebrating of others' religions. It came as no surprise that these girls' parents declined the invitation.
There were some excellent suggestions on what to do this time of year. Doing community service projects, celebrating the culture and religion of others during World Thinking Day and having a "Secret Scout" exchange or playing the "Left/Right" game at another time of year were discussed. You can have a cookie exchange during a less hectic time of year when the girls can bake a treat from their culture and share it with the others in the troop and then share the meaning behind it.
Girl Scouts is about inclusion. If an activity at a meeting cannot include all of the girls due to a fundamental religious difference, then that is a sign to you, as the leader, not do the activity. It is really very simple. Even if every girl in your troop celebrates Christmas, what happens if next year a child who does not celebrate the holiday joins your troop? Do you tell her she can participate if she wants to (knowing that she cannot) or do you do something different? Do you actively single out one or two children as the reason you cannot do something?
As a leader, you decide what is best for your troop. That means every child in your troop.
How have you handled the December holidays?