*This post contains affiliate links.
As the year begins to wind down, Girl Scout leaders are starting to plan their bridging ceremonies. For many troops who sold a lot of cookies, their bank accounts are full and they want to spend the money on things the girls want to do and what the troop needs.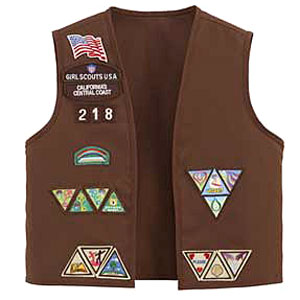 Brownie Vest and others available online at Boscov's

There are many troops out there that spend their fundraising dollars on uniforms for their girls. In most cases, I believe that this is a bad idea. I understand that not all troops have families who can easily afford to buy their daughters a new uniform every two years. I am talking about those who have parents that can afford it.
It seems like a great idea to have the girls bridge and then take off their old vest and put on their new one. I did this with my girls every time we had a bridging ceremony. However, the parents bought the vests, not the troop.
Parents are more apt to go forward with something if it costs THEM money. A vest, along with Council ID badges, troop numbers, the flag and the tab add up. What happens if a girl bridges and then decides not to return in the fall? Your troop is out that money. In theory you could ask for the vest back, but if the girl did fundraising with the troop, her efforts purchased that vest for her.
If a girl loses her vest, then who replaces it? Is that a conversation you want to have? If you replace one vest, what happens if two or three lose them? If you do replace it, then you have to make a trip to the Girl Scout Shop and buy it.  Guess what? Now you have created more work for yourself.
Girl Scout uniforms, in my opinion, are the responsibility of the parents. They can easily buy almost every part of the uniform online and have it shipped to their house.
If a girl does not have a uniform for bridging, then it is not on you. It is on her parents. As leaders we feel for the children in our troop, but we can only be responsible for so much.  Coaches do not buy new cleats for the children on their teams, dance studios do not buy costumes and shoes for dance competitions. Why should Girl Scouts be any different?
Do you buy your troop's uniforms? Why do you or why don't you?