So you decided to do a Journey and the final component is the Take Action Project. The girls have to find a community need and create a way to solve the need on a consistent basis.  For example, a food drive is great, but it is a one time thing…unless the girls find a way to make some part of it sustainable. It needs to have a long lasting impact.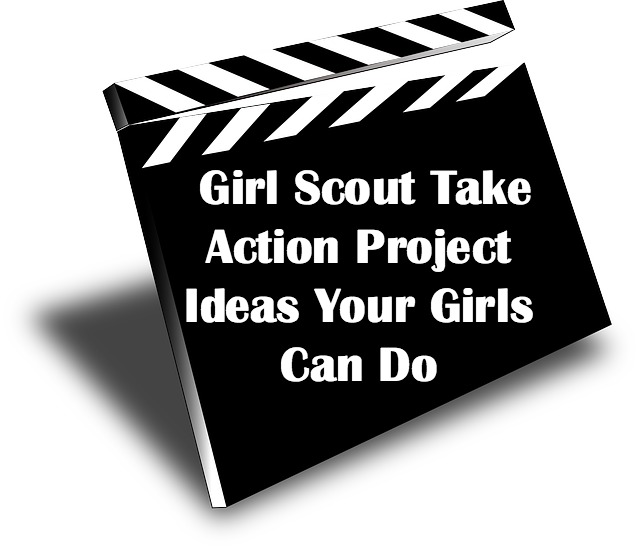 Photo from Pixabay
I read online about a troop who had a peanut butter and jelly food drive. The girls made the project sustainable by creating a pamphlet of peanut butter recipes that the food bank could be place in each bag of food. This could be copied over and over, making it sustainable.
A poster or a piece of artwork can also be a Take Action Project. For their Silver Award, these two Cadettes created a mural out of bottle caps and made a presentation to younger children about recycling. This piece of art is now a permanent fixture in the library.
A third kind of Take Action Project is to make a short video. YouTube is full of them, and they are there to be used by other leaders, as well as those who are looking for ideas on what to do for their TAP.
Creating a YouTube video will take time and of course, permission. You can make the video so that it will not be shared by others if that is a concern. Girls will have to write a script, get props, and rehearse before official filming begins.
The point of a TAP is to have the girls brainstorm ideas, put them into action, and in the process develop leadership and organization skills. As the leader, you want them to do something that is not only effective and has a positive impact in your community, but is also something they will actually complete. There are many incredible TAPs out there…in reality, these are completed by extremely dedicated groups and individuals. You know your troop best and what other activities you are competing against. Having your girls do a TAP that is doable for them is also part of the planning process.
Have you done a TAP?  What was it and how did it work out?