Now that the end of the year is fast approaching, Girl Scout leaders need to decide whether or not they are going to meet over the summer. Personally, when I was the head leader, I cherished June through September because it was my time off from doing everything for my troop. It also gave me ample time to plan ahead for the next year since I am a teacher, and the start of the school year was always a hectic time between getting my children and my classes ready.
In addition, with camp and vacation schedules being so different for each family, planning a meeting would have been challenging.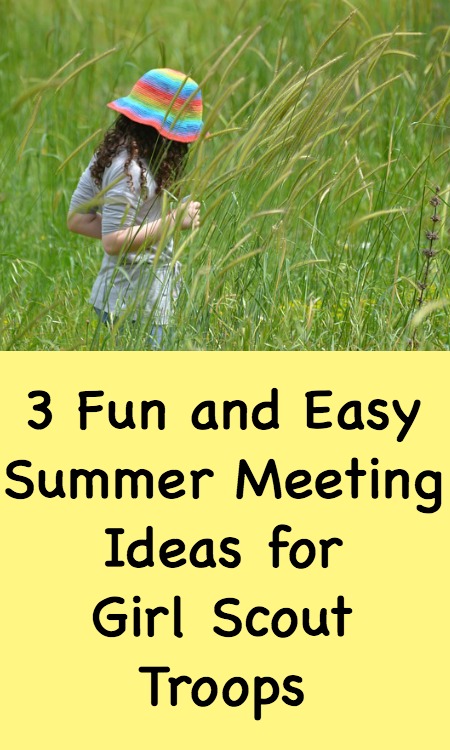 Photo from Pixabay
Other leaders like to keep the scouting momentum going, having meetings over the summer break. The warm months are a perfect time to do outdoor meetings, trips, and informal gatherings so your girls stay in touch with each other.
If you do wish to meet with your troop over the summer, I would strongly encourage doing badge work only if all of your girls are present. Missing meetings because of a family vacation or out of town friends and family are visiting is not slighting you or the troop-summer is a more flexible time than the school year. Do fun activities are just get together for some games and fun!
Here are some ideas for informal Girl Scout meetings.
Plan an Ice Cream Sundae Party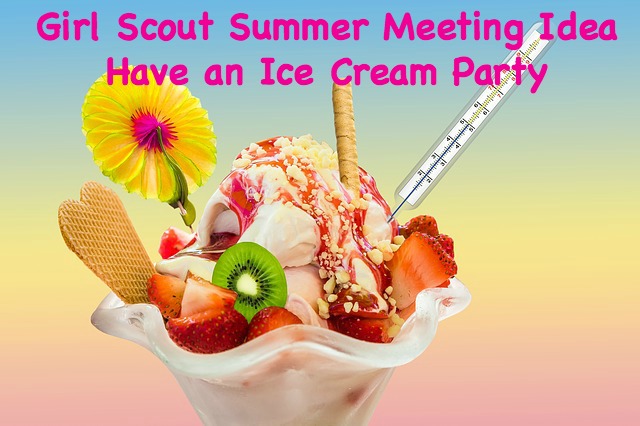 Photo from Pixabay
Who doesn't love ice cream? You can have a fun outdoor meeting with no drips inside your home. Play some games:
Pin the Sprinkles on the Ice Cream Cone
Make a big ice cream cone on a piece of oaktag and sprinkles from pieces of construction paper.  A variation would be to make an ice cream sundae on oaktag and cut out cherries for the girls to pin on it.
Relay Race
Use a real ice cream cone and a styrofoam ball (for the ice cream) from the craft store for each team. Have the girls race from one side of the yard to the other without dropping the ice cream. A variation of this is to have the girls do different things while holding the cone like hop, jump, or skip.
Taste Test
If your girls want to be Courageous and Strong, then blindfold them and have a taste test with unusual flavors. You can buy some at an ice cream store in your town.
If you wish to do an ice cream craft, the website Play Ideas has 25 ideas for you to try.
Of course, top off the meeting with a make your own sundae bar!
The No-Sleepover Sleepover Party
The age of your scouts will determine what you will be doing. Plan a movie night or day (for younger girls). There are a lot of older family films from Disney that your girls may not have seen that are rated G. For older girls, run a list of potential movies by the parents that are PG and see if there are any objections.
Need ideas for movies? Here is a complete list of every Disney film released. This site has a list of every Disney Channel Original film from the network (my family's favorite is Wendy Woo).
Once the movie has been selected, tell the girls that they will come in their pajamas and with a sleeping bag. No one will be sleeping over, as this is a no sleepover sleepover party! Park shoes by the front door so none go missing.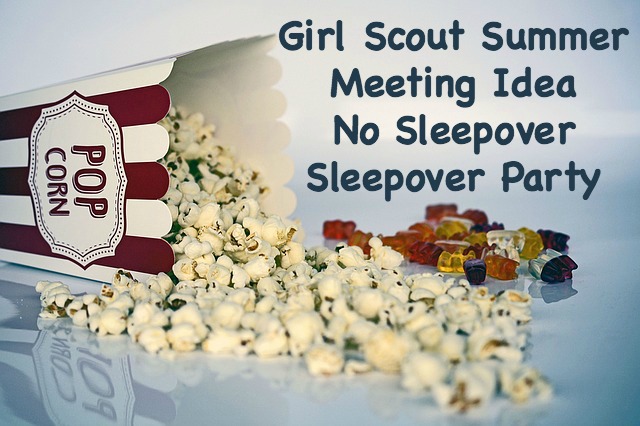 Photo from Pixabay
The food you serve will depend on the length of your meeting time-will it be an easy meal like pizza or just snacks for during the film?  Have a buffet of snacks on the table or you can go to your local movie theater and ask to buy the the cartons that have the snack packs that they sell at the movies. Then you can fill it at home with a pony water and treats or the girls can select their treats from a buffet that you have purchased.
Have the girls spread out their sleeping bags on the floor and start the movie!
If you wish to extend the meeting, play a movie trivia game with the girls.
Beach Party
You do not have to go to the beach to have a beach party! If you have a backyard, you can plan a fun outdoor event that the girls will remember for a long time.
Have each girl come to your home in her bathing suit and have her bring a change of clothes, sunscreen and a beach towel. A hat, visor and sunglasses are optional items you can ask them to pack.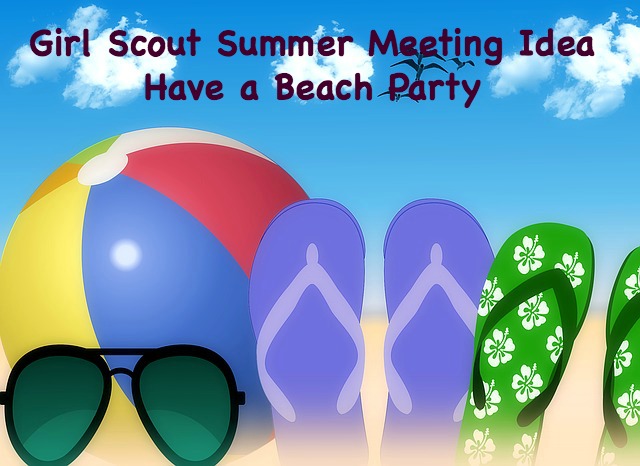 Photo from Pixabay
You can make your backyard into a water wonderland with a Slip and Slide, small inflatable pools and sprinklers. Girls can have water balloon fights as well. Serve ice pops, ice cream, cookies and have plenty of water on hand to keep the girls hydrated.
Another fun activity is to have the girls play with beach balls. You can inflate them ahead of time and write each girls name in Sharpie so she knows which one is hers at the end of the party. Girls can have relay races, play dodge ball and just have a toss with them.
Are you planning a to meet over the summer? What are you doing with your troop?