*This post contains affiliate links.
Photo by Hannah Gold
Here is an easy and inexpensive seasonal craft that you can make with your Daisy or Brownie troop.  My daughter actually did this as a craft during her class Spring Party.  It is inexpensive and simple!  Depending on what season you do this, you can select different foam shapes.  Fall can have leaves and pumpkins, winter snowmen and snowflakes (it can say "Happy Holidays"), and spring flowers and insects!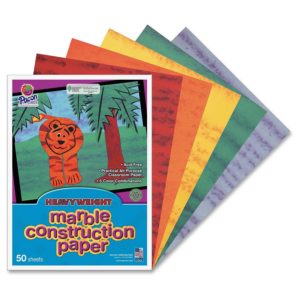 Marble Construction Paper Available on Amazon
Materials
Marble construction paper (8 x 11 size)
Yarn
Pre-Meeting Prep Work
1. At home, you need to cut the yarn into 24 inch long strands, one for each girl.  On the non-marble side, glue the yarn across one inch from the top.  Fold the top of the paper over and glue the sides down.  This is how the project will hang.
2. Spell out the name of the season and place in a snack size baggie for each girl.
At the Meeting
You can read a seasonal book to the girls to start off the meeting.  Hand each girl a prepped piece of construction paper and the baggie of letters.  They can put the foam shapes any place they want.
You can also do this for a Mother's Day or Father's Day craft!