I am very excited for our very first Junior Girl Scout meeting of the year.  It has been a long time since we have gotten together as a group, and I am looking forward to a very different kind of year.
First of all, we are adding two new girls to our troop.  One is a child who is my daughter's friend and was in a different troop, but decided to transfer to ours.  Another is a girl who has been waiting to be placed in a troop for four years!  I would have gladly taken her had I known, as she is friends with the one girl who does not attend our school.
First on the schedule is introducing the new girl to all of us and welcoming the other girl to our troop.  Then we are going to have a little Welcome/Rededication ceremony.  I know that some troops like to invite parents to these things, but honestly, it will take about five minutes and then we are getting down to business.  I am using the ceremony called "I Am a Girl Scout" from the Girl Scouts Heart of New Jersey website.  You can find this ceremony as well as many others right here.
We ARE NOT using candles!  That is not safe and we are also in a school building.
Each girl will read a part and at the end, I will have a pinning ceremony to give five of my girls their Five Year pin.
Then we will talk about the Bronze Award and what it is,as well as the Journey.  We will be doing the Amuse Journey, and I will share it with you as we go along.
Last, I have this cute keychain craft for the girls to do.  My daughter helped me do all of the prep work.  This is how we did it:
I had pony beads at home, but not enough green ones, so I purchased those as well as cord. I cut the cord into 12 inch pieces, double knotted the end, and placed tape at the other end for easy lacing (just like a shoelace aglet).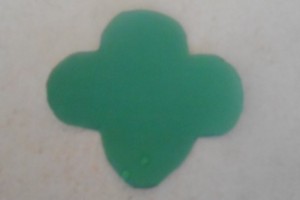 I used green Jewish Star shaped foams that I had on hand and had my daughter trace a trefoil that I printed off the internet.  After she traced them, she cut them in a smaller shapes so the girls can finish cutting them tomorrow.  She then punched a hole in one end.  In Sharpie, the girls will write our troop number.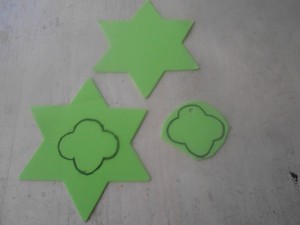 I decided the pattern should be:
1 white bead
5 green beads
Girl Scout law colors
1 white bead
5 green beads
They will then tie the beaded cord to a clip that I bought at the craft store.
To make my life easier, I put all of the Girl Scout law beads in a piece of plastic wrap, taped it up, so each girl will have her own set.  My own personal Girl Scout craft kit!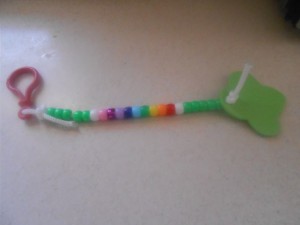 If time permits, I have elastic that the girls can bead and make Junior bracelets.
I will let you know how it goes!
For other first meeting ideas, here is my post about last year's first Junior meeting!