*This post contains affiliate links.
The Girl Scouts of the USA is based on the Girl Guides that were in England at that time, a scouting activity for girls. After living in England for many years and trying to find a purpose in her life after the death of her husband, she helped in the Girl Guide organization and was encouraged by it's founders to give it a go in the United States.
The only rule for Girl Scout Week is that it must fall during the period of March 12th. Otherwise, leaders are free to have their girls do whatever they want to celebrate.
Many churches and synagogues around the country hold a special service to honor Girl Scouts. The girls can earn a Sabbath or Shabbat patch for attending. It is also a time that the girls in a troop can share their faith with their sister scouts if they desire.
One way my troop shows it's Girl Scout pride is to wear their vests to school for the entire week. We always offer our services to the teachers and staff at our school. Fortunately for us, our principal was a Girl Scout until she graduated high school and earned every award offered, so she is very supportive of our efforts in making the world a better place!
In March of 2012, for the 100th anniversary of the Girl Scouts, we had a successful canned food drive in honor of the 100th anniversary of the Girl Scouts and collected over 2,000 cans and boxes of food for a local food pantry.
There is no shortage of ideas for you to use to celebrate Girl Scout Week with your troop. The only thing you need to do is plan ahead!
Why Should You Participate in Girl Scout Week?
My local Service Team has made a concerted effort over the past few years to get our Council's Girl Scout troops involved in this celebration. Troops can choose to participate, and most do. Each troop makes a poster about why being a Girl Scout is a great thing. My troop has made posters that feature them on various trips and doing different activities.
In class, girl who want to share what their favorite part of scouting is.Since we do not sell cookies, the children in my troop share other things, like the service projects we do, the trips we have been on and the badges that we have earned.
Read About Juliette Gordon Low – A Biography for Younger Girls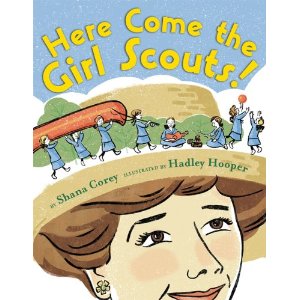 Girl Scout Week is all about celebrating the founding of the Girl Scouts of America in 1912.  Without Juliette Gordon Low, there would be no Girl Scout organization!  This book has many photographs of  "Daisy" when she was a young girl, and can open up a great discussion about how girlhood was different back in the 1860's.   It does not go into detail about her marital problems, just that her husband died.  Simple, easy to read and perfect for younger Girl Scouts!
Recognizing that we are a special group of girls with a common bond is one reason to celebrate. There are activities each child can do to highlight the importance of scouting and how it helps their local and global community.
Activities for Celebrating Girl Scout Week
There are scores of wonderful activities for all levels of Girl Scouts to do in celebration of this special week.
The Girl Scouts of Eastern Iowa and Western Illinois have a downloadable chart for you to send home with your girls. If the girls complete one activity a day, they can earn the Girl Scout Week patch.
Activities for Brownies and Juniors
The Girl Scout of Rhode Island have a list of activities that they created in honor the the 100th anniversary of the Girl Scouts last year. They still apply for this year!
This is a chart of daily activities for girls to try.